Falkirk company hails 'bus of the future'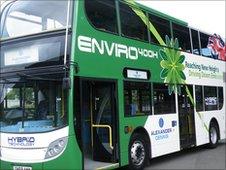 Falkirk-based Alexander Dennis says it has produced the "bus of the future" - a double decker which uses electric power and a diesel engine.
Energy which would be lost when the bus brakes is captured and recharges the batteries.
Bus builders have been manufacturing so-called "hybrid" vehicles for 25 years.
But they are more expensive than conventional buses, and have not always performed well.
"The difference is that this one works," said the company's corporate affairs director Bill Simpson.
"Hybrid technology has been around a long time, but there have been consistent problems in terms of having to re-charge batteries.
"Hopefully we've cracked that, and this bus is completely self-regenerative. It never at any times needs plugging into the mains to re-charge."
The company claims its new bus cuts fuel consumption and carbon dioxide emissions by up to 40%.
However, they will cost about £300,000 - some £100,000 more than a conventional double decker.
Bill Simpson told BBC Radio's Good Morning Scotland programme that hybrid buses would continue to be more expensive "until we get into real volume production".
"Of course, when we drive up the numbers we drive down the prices."
That cost differential is one reason why the Scottish government has just announced it is investing £3m in a scheme to encourage operators to buy more environmentally-friendy buses.
First Minister Alex Salmond said that cash was all the more important because money was tight.
"When local authorities and other bus operators are under a lot of pressure then an extra £100,000 in capital costs becomes very important," he said.
"The fact that they'll save £10,000 to £12,000 a year, sometimes that gets overlooked because of the immediate pressure on finance.
"That's where the Green Bus Fund steps in, because it helps people bridge that gap."
The company said a similar scheme already running south of the border had helped it generate big orders.
Mr Simpson said there was already a fleet running in London.
"We've got another fleet going into Oxford in July, and a significant fleet going into Manchester later in the year."
Alexander Dennis hopes its new vehicle will help to safeguard almost 1,000 jobs in Falkirk, and another 2,000 at their suppliers across Scotland.
Related Internet Links
The BBC is not responsible for the content of external sites.