Work begins on flood-collapse bridge in Workington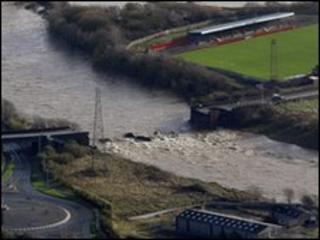 Work to clear the remains of a bridge that collapsed in Cumbria is to begin.
Workington's Northside Bridge was destroyed when floods swept through the county in November.
Debris will be cleared from the River Derwent and the remaining section of the bridge on the south side of the river will be demolished.
The town was effectively split in half when flood water destroyed Northside Bridge and badly damaged nearby Calva Bridge.
The work, which is due to start on Monday, may last several weeks.
Sandstone blocks recovered from the destroyed bridge are going to be stored for potential re-use in the replacement bridge.
Borehills drilled
During the demolition process two boreholes will also be drilled in the river channel to investigate the ground conditions in preparation for the building of a permanent bridge.
Councillor Tony Markley, Cumbria County Council's cabinet member for highways and economic development, said: "The removal of debris from the river and demolition of what remains of the collapsed bridge is another important step in Workington's flood recovery.
"This work will clear the way for permanent bridge replacements and remove rubble and remains that the devastating flooding left in its wake."
A £4.6m temporary road bridge to link the town was completed in April.
Previous to its construction, motorists had to make an 18-mile (30km) detour via Cockermouth to cross the River Derwent.