Anger at diversion of Cardiff trains to Glastonbury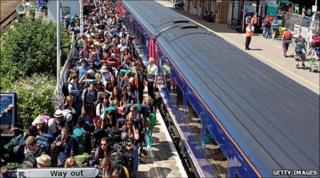 A decision to cancel some trains between Cardiff and London, so they can transport people to the Glastonbury Festival instead, has been criticised by the Liberal Democrats.
Jenny Randerson AM, the party's transport spokeswoman, said it was "totally unacceptable".
But First Great Western said it sometimes diverted services to cope with demand for special events.
More than 30 trains have been pulled over four days.
They include four which were cancelled on Wednesday and six cancelled on Thursday, while four are due to be cancelled on Friday and another 18 on Monday.
Instead, the trains will be used to take crowds of music lovers to and from Glastonbury in Somerset.
Ms Randerson said the decision "will put undue pressure on services through to Wales".
"We're being picked on repeatedly to fill the gap because First Great Western haven't got enough rolling stock," she said.
"I can only assume that they consider Wales to be a bit of a soft touch.
"I respect the need to run extra trains to deal with special events but when Cardiff holds rugby internationals, we are often told by operators that it's not possible to run extra services.
"This therefore seems like double standards from the industry and that isn't fair."
However, FGW said it "quite often" diverted trains to cope with demand for special events and that it had previously added more trains to its service to south Wales during the Six Nations rugby competition.
It added there will be another train within 30 minutes of most cancellations.
"We publicised the alterations to services well in advance through many channels," said a FGW spokesperson.
"There will be another train within 30 minutes of most cancelled services and we would advise people to check their trains before they travel.
"We put on a number of extra services to accommodate customers travelling to and from the Six Nations in Cardiff earlier this year."
There was further disruption to services between London Paddington and south Wales on Wednesday after signalling equipment was vandalised.