Gas blast house in Nottingham to be demolished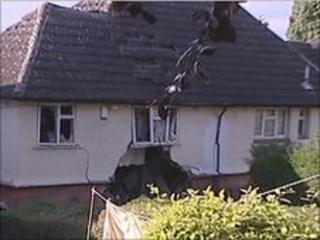 A Nottingham council house that was damaged in a suspected gas explosion is to be demolished.
The property on Stockhill Lane, Basford, is considered too dangerous for investigators to enter.
Det Ch Insp Brendan O'Shea said: "We will now have to carry out a gradual demolition of the house gathering evidence as we go."
Sandra Shaw, 42, and her partner Alex "Sonny" Kirk, both lost limbs in the blast on 20 June.
Nottingham City Homes (NCH), which manages the council property, said a new boiler was installed in the house six weeks ago and had been inspected since.
The explosion was heard up to half a mile away and caused part of the house's rear wall to collapse and much of the first floor to give way.
Work on the demolition will start on Monday and take up to two weeks to complete.
Neighbouring residents who were evacuated from their homes after the explosion will be able to move back in within the next couple of days.