Council 'league tables' to be scrapped to save money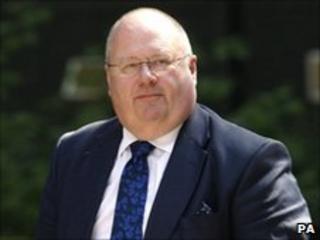 Councils in England will no longer have to report to ministers annually on their performance in key areas.
In an effort to cut red tape and save money, the government says it will scrap league tables which marked councils over service delivery and highlighted successes and weaknesses.
Communities Secretary Eric Pickles said councils had been "engulfed" by top-down monitoring from Whitehall.
Labour have accused the government of forcing councils to make huge cuts.
The last government introduced comprehensive area assessments in an effort to increase accountability and help people compare standards across different local authorities.
The first results - grading councils on how far they were delivering better results in services such as health, enterprise and community safety and how likely they were to improve in the future - were published last December.
Getting rid of them would save councils time and money, the coalition has now said, as well as reduce the burden on bodies such as the Audit Commission and Ofsted which carry out the process.
'Hush-hush process'
Mr Pickles said the assessments - conducted jointly by the Audit Commission, Ofsted, the Care Quality Commission, HM Inspectorate of Probation and HM Inspectorate of Constabulary - were an example of "unnecessary red tape and paperwork".
For example, he suggested, Tory-run Leicestershire County Council faced 83 inspections a year and had assigned 90 full-time staff to prepare information for central government - at a cost of £3.7m.
"Central government needs to stop the costly top-down monitoring that is engulfing councils and start trusting them to do what is right locally," Mr Pickles said.
"It is much more important for the public to know what their councils are doing than having thousands of hush-hush, unseen papers being sent back and forth between Whitehall bureaucrats and the town hall."
Officials said they would look at further ways of reducing local bureaucracy, such as reducing the number of routine inspections of services by external authorities.
But they stressed councils would still be liable to statutory inspections in areas such as children's services, as well as cases when there was evidence of management failure.
Freedom and openness
The government has pledged to reduce the bureaucratic burden on councils and give them more freedom over how they spend money but, in return, they are expected to be open about spending decisions and executive pay.
Local authorities have warned that the funding squeeze across the public sector could put real strain on services.
Councils in England face big cuts in their budgets after the government announced a £1.1bn reduction in central funding for the year ahead.
Local education, transport, housing and enterprise budgets will all be squeezed, but ministers said no council would see central funding drop by more than 2% and resources for essential services - such as rubbish collection - would be maintained.
Labour have said the plans will compromise vital services and that councils in deprived areas of the UK will suffer disproportionately.