Catholic Church sex abuse scandals around the world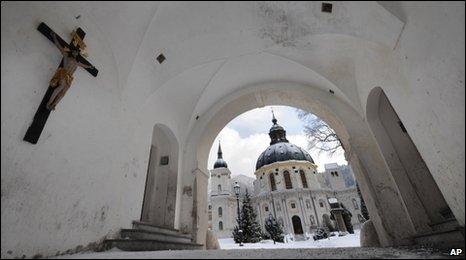 The Catholic Church has faced a raft of allegations of child sex abuse by priests and an inadequate response by bishops. Here is a round-up of some of those events:
The scandal drew in the former head of the Catholic Church in Belgium, Cardinal Godfried Danneels, who had advised the victim in April not to go public with his story until Vangheluwe had retired in 2011.
After the Vangheluwe case came to light, a commission set up to investigate the extent of abuse in the Belgian Church received a flood of calls.
Police controversially raided the commission and Church offices, suspecting some evidence was being covered up - but this move was ruled illegal by a Belgian court.
The abuse was found in nearly every diocese, and 13 alleged victims had committed suicide, he said.
However, he found no indication that the Church had systematically sought to cover up cases.
The Church pledged to set up a victims' support centre in a first attempt to rebuild public trust, and to co-operate more with the police.
Two major reports into allegations of paedophilia among Irish clergy last year revealed the shocking extent of abuse, cover-ups and hierarchical failings involving thousands of victims, and stretching back decades.
In one, four Dublin archbishops were found to have effectively turned a blind eye to cases of abuse from 1975 to 2004.
The Dublin archdiocese, it said, operated in a culture of concealment, placing the integrity of its institutions above the welfare of the children in its care.
In the wake of the report, all Irish bishops were summoned to the Vatican to give an account of themselves in person before the Pope.
Four bishops, named in the report, handed in their resignations. The Pope accepted two but told the other two he wanted them to continue.
With the Church still reeling from the reports' findings, a fresh scandal erupted in March 2010 when it emerged the head of the Irish Catholic Church, Cardinal Sean Brady, was present at meetings in 1975 where children signed vows of silence over complaints against a paedophile priest, Fr Brendan Smyth.
A few days later, on 20 March, Pope Benedict XVI apologised to victims of child sex abuse by Catholic priests in Ireland.
He then accepted the resignation of Bishop John Magee, an aide to three popes before being assigned to Ireland, who was found to have mishandled allegations of clerical sex abuse in his County Cork diocese.
Pope Benedict has now appointed a panel of nine prelates to investigate child abuse in Ireland's Catholic institutions.
Over the past two decades, the Roman Catholic Church in the US - with the archdiocese of Boston in particular - has been embroiled in a series of child sex scandals.
In 2002 the then-Pope John Paul II called an emergency meeting with US cardinals, but allegations continued to emerge.
In September 2003, the Boston archdiocese - the fourth-largest in the US - agreed to pay $85m to settle more than 500 civil suits accusing priests of sexual abuse and church officials of concealment.
A report commissioned by the Church the following year said more than 4,000 US Roman Catholic priests had faced sexual abuse allegations in the last 50 years, in cases involving more than 10,000 children - mostly boys.
During a tour of the US in 2008, the Pope met privately with victims of abuse by priests and spoke of "the pain and the harm inflicted by the sexual abuse of minors".
Archbishops had complained about Fr Lawrence Murphy in 1996 to a Vatican office led by the future Pope, but apparently received no response.
Fr Murphy, who died in 1998, is suspected of having abused some 200 boys at St John's School for the Deaf in St Francis, Wisconsin, between 1950 and 1974.
One of his alleged victims told the BBC the Pope had known for years about the accusations yet failed to take action.
Since the start of 2010, at least 300 people have made allegations of sexual or physical abuse by priests across the Pope's home country.
Claims are being investigated in 18 of Germany's 27 Roman Catholic dioceses.
Accusations include the abuse of more than 170 children by priests at Jesuit schools, three Catholic schools in Bavaria, and within the Regensburg Domspatzen school boys' choir that was directed for 30 years by Monsignor Georg Ratzinger, the Pope's brother.
In June, prosecutors said they were investigating the head of Germany's Roman Catholic bishops. Archbishop Robert Zollitsch of Freiburg is suspected of allowing the re-appointment of a priest accused of child abuse in 1987. The archdiocese rejected the charge.
Days earlier, the Pope's former diocese said Benedict had unwittingly approved housing for Fr Hullermann when serving as archbishop of Munich; the Vatican denounced what it called "aggressive" efforts to link the Pope to the scandal.
The Regensburg diocese confirmed on 22 March new allegations of child sexual abuse against four priests and two nuns, saying most of the incidents occurred in the 1970s.
Two days later the German government announced it was forming a committee of experts to investigate all the abuse claims.
In June 2010 a high-profile former priest was charged with sexual abuse.
Pierino Gelmini, 85, is alleged to have abused 12 young people at a drug rehabilitation centre he founded.
Meanwhile, a number of deaf men have come forward to say they were abused as children at the Antonio Provolo Institute for the Deaf in the northern city of Verona between the 1950s and the 1980s.
The allegations were first reported in the Italian press in January 2009.
Later last year the Associated Press news agency obtained a written statement from 67 of the school's former pupils naming 24 priests, brothers and lay religious men who they accused of sexual abuse, paedophilia and corporal punishment.
The diocese of Verona said it intended to interview the victims following a request from the Vatican to do so.
Allegations first centred on Don Rua monastery school in the eastern Netherlands, with people saying they were abused by Catholic priests in the 1960s and 70s.
This prompted dozens more alleged victims from other institutions to come forward.
A series of claims of sexual abuse by priests has emerged in the Vorarlberg region.
Some 16 people have reported 27 alleged incidents there, spanning half a century.
Ten children are also alleged to have been abused at a monastery in Mehrerau in the 1970s and early 80s.
Meanwhile five priests at a monastery in Kremsmuenster in Upper Austria have been suspended after complaints of sexual and physical abuse of boys there.
Separately, the head of a Salzburg monastery, Bruno Becker, resigned after confessing to having abused a boy 40 years ago, when he was a monk.
A commission set up by the Swiss Bishops Conference in 2002 has been investigating allegations of abuse involving the Catholic Church there.
A member of the commission, Abbot Martin Werlen, said in a newspaper interview this month that about 60 people have said they were abused by Catholic priests. The alleged incidents are reported to have occurred over the past 15 years.
A priest in the canton of Thurgau was arrested on 19 March on suspicion of sexual abuse of minors, police said.
Three priests have been accused of sexually abusing 10 orphan children in Malta during the 1980s and 1990s.
Pope Benedict visited the island in April and held an emotional meeting with victims, pledging to bring those responsible to justice and to protect young people in the future.
Police have launched an investigation into three members of staff at a care home run by a Catholic order.
There have also been formal accusations against a Carmelite monk in eastern Spain and Franciscan brothers in the south.
Related Internet Links
The BBC is not responsible for the content of external sites.