Five accused of footballer attack in Greece 'innocent'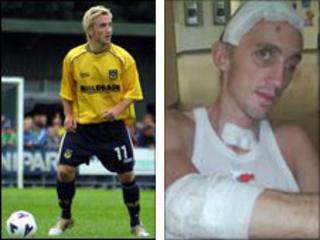 Five men from Sussex and Surrey facing extradition to Greece following an attack that left a man in a coma have said they are the victims of injustice.
On Wednesday, they lost a High Court battle to block their extradition despite protesting their innocence.
The men are accused of causing grievous bodily harm to Rob Hughes, of Croydon, south London, in Crete in June 2008.
George Hollands, 22, from Reigate, in Surrey, said "innocent peoples' lives are being ruined".
He said he understood that justice needed to be served, but said he was not involved in the attack.
Mr Hollands says he has seven witnesses to support his claim that he went back to his hotel room before the fight outside a nightclub in the resort of Malia.
Benjamin Herdman, 20, from Worth, West Sussex, recalled how "a little bit of an argument" had started, but he did not want to get involved and carried on walking.
"I had absolutely no involvement, and I'm not the only one that didn't have any involvement," he said.
The three other accused men are Curtis Taylor, 20, Daniel Bell, 21, and Sean Branton, 20, all from Horley, in Surrey.
All five are due to be extradited to Greece in the next month.
European warrants
They face being imprisoned in a Greek jail for up to 18 months while the authorities investigate the attack.
The men were invited to go back to Greece in June 2009, but they refused and were then detained under European arrest warrants in December.
Former Oxford United footballer Rob Hughes, who also played for Fulham youth team, Sutton United, Croydon Athletic, Bromley and has since played for Welling, was left in a coma after being kicked, stamped on and hit with a bottle.
He was in a Greek hospital for three months undergoing a series of brain operations.
He has now recovered to the extent that he is playing football again.