'ETA suspect Fermin Vila Michelena arrested in Belfast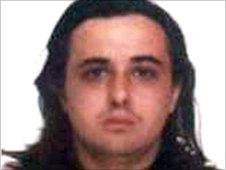 A 40-year-old man has been arrested under terrorism legislation in a joint operation between the PSNI and Spanish police.
Fermin Vila Michelena was arrested in Belfast on Thursday.
Michelena is a suspected member of the armed Basque separatist group ETA and wanted in Spain for a number of attacks.
The Spanish interior ministry said he was the subject of three arrest warrants.
The ministry said he was part of ETA's Madrid cell which carried out four car bomb attacks in 2001, one of which killed a senior army officer and a policeman.
He then fled to France the ministry added.
In 1994, he was a candidate for the European elections for the radical Basque separatist Herri Batasuna party, which was banned in Spain in 2003 over its links to ETA.
Since December 2001 he has been on a European Union list of terrorist suspects.
Earlier this year former senior ETA member, Jose Ignacio de Juana Chaos, jumped bail in Northern Ireland.
De Juana Chaos had served 20 years for the killing of 25 people in 11 attacks and is wanted in Spain on charges of glorifying terrorism.
A court in Belfast ordered the extradition of the Basque separatist who has not been seen in the country since April.
In February this year Spanish authorities failed to extradite Arturo Villanueva Arteaga, 33, from Northern Ireland.
Mr Arteaga was being sought over claims that he belonged to a youth group allegedly linked to ETA.