Jazz musician Fred Anderson dies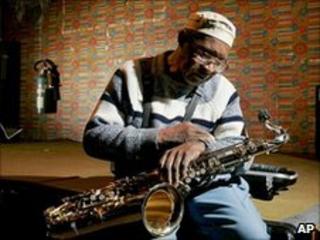 Tenor saxophonist Fred Anderson, known for his smooth musical style, has died aged 81, his sons have confirmed.
His club - named Velvet Lounge after his trademark sound - was a focal point of Chicago's jazz scene.
Dozens of acclaimed albums were recorded at the venue, including Anderson's 2005 release, Blue Winter.
As manager and curator, he helped to launch the careers of many artists, including Nicole Mitchell and percussionist Hamid Drake.
Veteran alto saxophonist Jimmy Ellis told The Chicago Tribune newspaper that Anderson was "the essence of music in Chicago".
Jazz guitarist George Freeman added: "Fred has always been different. He was doing his own thing, he did it his way."
It was not until the 1990s that Anderson rose to prominence, as record companies began to release recordings of his work
Positive reviews helped him become a regular on the jazz-festival circuit in the US and Europe.
He also co-founded the Association for the Advancement of Creative Musicians, a group that was dedicated to reviving a faltering 1960s jazz scene in Chicago.