Mohamed ElBaradei leads Egypt 'police death' protest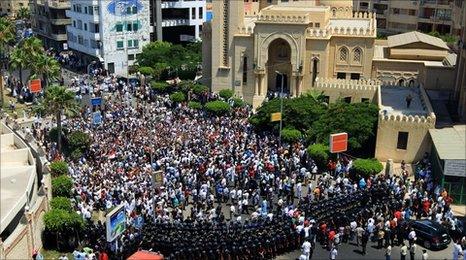 Several thousand demonstrators have taken to the streets of the Egyptian city of Alexandria to protest against alleged police brutality.
They were led by the former UN nuclear chief, Mohamed ElBaradei, now a campaigner for reform in his homeland.
It is the latest in a series of protests sparked by the death earlier this month of 28-year-old Khaled Said.
Witnesses say police beat him to death on an Alexandria street. Officials say he suffocated after swallowing drugs.
Pictures of his injured face have appeared on social networking websites, sparking condemnation from human rights groups.
The protest happened after Friday prayers in the northern port city of Alexandria.
Witnesses put the crowd at anything from 2,000 to 5,000 people - making it one of the biggest opposition demonstrations since Mr ElBaradei became involved in the movement - says the BBC's Jon Leyne in Cairo.
It is also the first time he has joined a protest himself, our correspondent says.
Protesters held up signs saying, "Long live Egypt" and "Condolences to freedom".
Some chanted "Down with Mubarak," referring to Egyptian President Hosni Mubarak.
Campaigners say Mr Said's death is evidence that Egypt's emergency law has created a culture of police impunity.
The law, which has been in place for nearly 30 years since the assassination of President Anwar Sadat by an Islamic militant, was recently renewed for a further two years.
Related Internet Links
The BBC is not responsible for the content of external sites.