Pair get life sentences over Lace Market fatal shooting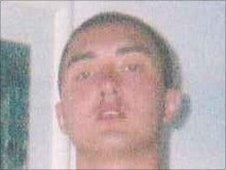 Two men have been given life sentences after they were found guilty of murdering a 27-year-old man in Nottingham's Lace Market.
Bernard Langton, 27, of Bulwell, died from a gunshot wound after he was found in an alleyway close to the Pitcher and Piano bar on 25 May 2009.
Anthony Tirado, 25, and Dion Griffin, 35, were found guilty of murder at Birmingham Crown Court on Thursday.
The pair, who are both from Top Valley, will serve a minimum of 28 years.
Andrew Pleasance, 33, of Cinderhill, was found guilty of assisting an offender.
He was given a four-year prison sentence.
Birmingham Crown Court was told Mr Langton was shot after a fight in a Nottingham bar in May 2009.
He was taken to the Queen's Medical Centre after he had been shot in the back at the Paris nightclub in the Lace Market.
The jury heard Mr Langton, who had stabbed another man after being hit over the head with a bottle at the nightclub, died shortly after getting into the hospital.
After the verdicts, Mr Langton's mother Christina Walker said: "I really miss his cheeky smile.
"He was always laughing, and had a very bubbly character. He liked to make us all laugh.
"We are a big family, some living in Nottingham, some in Liverpool. Despite the distance, we were always travelling up and down to see each other and as a whole family we were all very close.
"Bernard had a long-term partner, who was his childhood sweetheart, and together they had two children.
"He was a brilliant dad. His daughter was only one when he died. He would always be spending time with his son, who is now six-and-a-half, going to the park and taking him to the cinema. It is hard to believe he is gone and they have to grow up without him.
"The people who did this have taken my son from me and ruined my life. Everyone needs to wake up and know what is going on around them and to understand gun crime devastates families."
Det Ch Insp Kate Meynell, who led the murder investigation, said the verdicts sent a strong message to anyone carrying a gun in Nottinghamshire.
"Bernard's murder shocked everyone, especially the thought that some people considered it acceptable to take firearms and weapons into licensed premises and go on to use them," she said.
"It happened in a busy part of the city, at a time when people would have been leaving pubs and clubs.
"This has been a complex case which required in-depth analysis of CCTV and evidence from several witnesses who saw what happened before, during and after Bernard was killed."
Related Internet Links
The BBC is not responsible for the content of external sites.