Party whip restored to SDLP's Declan O'Loan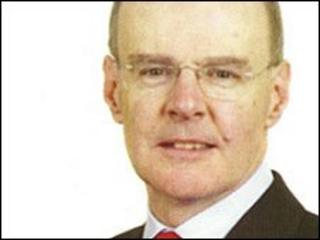 The SDLP's Declan O'Loan's period of suspension from the Northern Ireland Assembly has ended.
The SDLP leader Margaret Ritchie took the action earlier in June.
The move came after he issued a statement calling for a single nationalist party.
On Friday, Ms Ritchie said: "I can confirm that the SDLP Parliamentary/Assembly whip has been restored to Declan O'Loan with immediate effect.
"Since his election to the Assembly in 2007, Declan has proved to be an able and adept spokesperson in the finance and personnel portfolio and first-class constituency MLA in North Antrim."
She added: "The party is now looking forward to the next phase of politics on this island and there is no doubt that Declan O'Loan will play an integral part in and make a huge contribution to a progressive and dynamic SDLP."
According to BBC NI political correspondent Gareth Gordon, Mr O'Loan shocked senior SDLP members when in May he called for a single nationalist party.
He quickly withdrew the statement when ordered to do so but the damage was done and the following day Ms Ritchie suspended him from the Assembly party.
He was also removed from two Stormont committees.
On Friday, sooner than expected, the SDLP leader announced the suspension was lifted with immediate effect and that he was also being given back his committee places.