First post-Mumbai India ministerial visit to Pakistan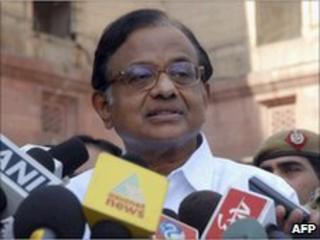 Indian Home Minister P Chidambaram is in Islamabad for what will be the first Indian ministerial visit to Pakistan since the Mumbai attacks.
The 2008 attacks are expected to be the focus of talks Mr Chidambaram will hold with his Pakistani counterpart.
The talks follow a meeting between top diplomats from the two countries who pledged better relations.
Peace talks were put on hold after the Mumbai attacks of 2008, which India blamed on the Pakistan-based militants.
The talks resumed in February when the foreign secretaries held their first formal talks in Delhi.
Over 170 people were killed in the Mumbai attacks, which Pakistan admitted were partly planned on its soil.
Goodwill gesture
During his two-day visit to Pakistan, Mr Chidambaram is expected to press for a probe against Pakistan-based militant group Lashkar-e-Taiba founder Hafiz Saeed.
He is also due to seek voice samples of the alleged handlers of those who carried out the Mumbai attacks, reports say, so that they can be checked against telephone recordings held by the Indian authorities.
Nine of the 10 militants who carried out the Mumbai attacks of November 2008 were killed - sole surviving gunman Mohammad Ajmal Amir Qasab was convicted for his role in May.
India blames Lashkar-e-Taiba for the Mumbai attacks and has been insisting that Pakistan does more to punish the attackers.
In a goodwill gesture ahead of his visit to Pakistan, Mr Chidambaram ordered the release of four Pakistani prisoners lodged in various jails in the western Indian state of Gujarat.
A statement released by the home ministry said the prisoners would be repatriated from the Attari border on 30 June and would be handed over to Pakistan Rangers.
On Thursday, India's Foreign Secretary Nirupama Rao met her Pakistani counterpart Salman Bashir.
Ms Rao said India had raised concerns about "terrorism" and that Delhi and Islamabad had agreed to work together to deny militants the opportunity to sabotage their dialogue.