'Obstacles' to Powys council and health board merger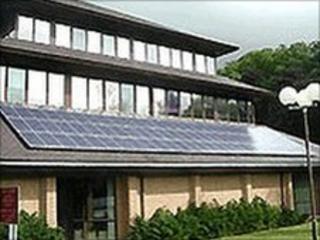 Plans to merge a council and a local health board (LHB) have hit the buffers after a report found there were "major obstacles to overcome".
Powys council and Powys LHB backed the proposal last year in an attempt to cut costs and improve the delivery of services.
But consultants KPMG said there were a number of barriers to a full merger.
These include the LHB's £20m deficit and different decision making processes.
The council and the LHB had both voted in favour of proceeding with one of the first agreements of its kind.
But the KPMG report has thrown a full merger into doubt, although both organisations still have plans to work together.
KPMG were asked to investigate the business case for merging the two public bodies and reported back to the council.
A merger could generate significant savings, but there were major obstacles to overcome, the report concluded.
Council chief executive Jeremy Patterson told councillors that savings of between £6m and £14m could come out of a merger.
He said: "We will continue to look to integrate services as widely as possible to generate efficiency savings and streamline service delivery and we should not allow these obstacles to prevent this."
Mr Patterson said the report highlighted the health board's £20m deficit, no redundancy policy, different decision making processes and staff modernisation issues as barriers which would have to be overcome to achieve full merger.
LHB chief executive Andrew Cottom said: "We are firmly committed to further integration of health and social services.
"There are obstacles to overcome with regard to full merger and these remain subject of discussion, but we are fully committed to the principles of a full merger."
The KPMG report will be considered at future board meetings of the council and health board.
In the meantime, Mr Patterson will write to the assembly government to explain how to take the merger forward.