Plymouth roadside patrolman in Navy uniform swap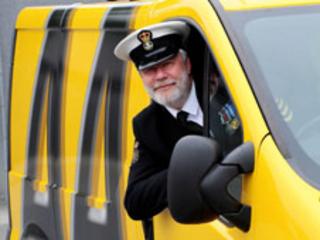 A roadside patrolman from Devon has swapped one uniform for another.
Alan Van Gorph's full-time job is as an AA patrol man, but the Plymouth man has also served as a Royal Navy reservist for the past 17 years.
His change of clothes was part of Uniform to Work Day to recognise the work of the Reserve Armed Forces and Territorial Army (TA).
"We should recognise the sacrifices our Reserve Forces make on our behalf," said Defence Secretary Dr Liam Fox.
As well as saving stranded motorists, Mr Van Gorph has recently spent a year on counter-piracy operations.
Show of appreciation
"I joined the RNR in 17 years ago because I wanted something else to do - something useful and challenging," he said.
"The Navy has certainly given me everything I expected.
"My specialism is maritime trade operations, so I advised and helped out merchant shipping when they got into trouble with pirates off Somalia and the Red Sea.
"It was a bit like being in the AA in that respect - helping out those on the move.''
Of the 45,000 reservists in the UK, there are currently about 600 serving in Afghanistan.
It is the third year the event, founded by TA officer Col Alastair Bruce, has taken place.
"At a time when approximately 8% of those people serving in Afghanistan are reservists, Uniform to Work Day is a chance for all of us to show our appreciation for the Reserves and to support their families, employers and work mates," he said.