Larne FC supermarket plan blocked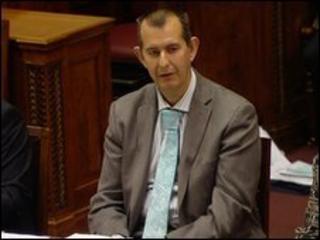 Environment Minister Edwin Poots has told MLAs he intends to block a supermarket development in Larne which the local football club had said was key to its survival.
GML Estates, a Guernsey-based developer, wants to develop the old bleach works adjoining Inver Park.
Part of the Inver Park ground was needed for the plan and GML would improve the stadium as part of a deal.
However, the minister has said he intends to block the plan.
The future of Inver Park has been uncertain because the council, which owns it, wants to sell it to Tesco for £5m. The retail giant wants to develop a supermarket on the site.
However Larne FC, which holds Inver Park on a long lease, backed the rival GML plan.
The minister has recently approved for the expansion of the Co-op store in the town though councillors are opposing the move.