More visit historic Tudor mansion in Ipswich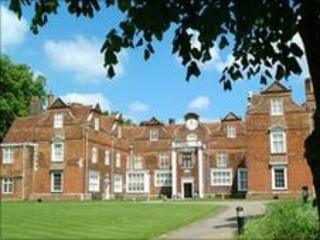 The number of people visiting the Tudor Christchurch Mansion in Ipswich has increased by 17% in a year, new figures have shown.
The numbers went up from 58,099 in 2008/2009 to 67,671 in 2009/2010, according to a Colchester and Ipswich Museum Service (CIMS) report.
The figures also show that the numbers visiting Colchester Castle declined by 19% over the same period.
Visitor numbers fell from 108,996 to 88,337.
Overall the Colchester and Ipswich museums experienced a drop of 1%.
Constable and Gainsborough
The Natural History Museum in Colchester also enjoyed an 18% rise in visitors - from 27,682 to 32,645.
While Ipswich Museum experienced a rise in numbers from 38,889 to 41,831, an 8% rise, the arts venue Gallery 3 saw an increase from 8,039 to 10,437, a 30% rise.
Christchurch Mansion is a popular museum and gallery in the centre of a public park in Ipswich.
It houses paintings by John Constable and Thomas Gainsborough and a collection of Lowestoft pottery.
Peter Berridge, manager of the Colchester and Ipswich Museum Service, said the increase in numbers at Christchurch Mansion and Ipswich Museum were due to a concerted promotion campaign.
"We are also securing significant investment.
"At Ipswich Museum we will have a brand new Egyptian gallery."
Mr Berridge said Colchester Castle was CIMS' only museum which charges and might have been hit by the recession.
He said that some of the displays were between 15 and 20 years old and needed updating.
CIMS is hoping to secure a £3m grant to improve the displays.
The figures were in a June report to the Colchester and Ipswich Museum Service joint committee meeting.