Iglesias plans naked ski if Spain win World Cup
By Fiona Pryor
Entertainment reporter, BBC News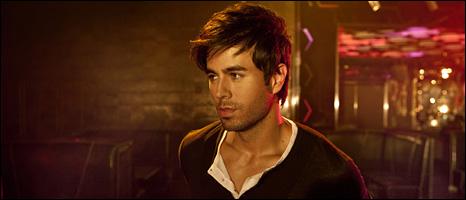 "If Spain win, I'm going to get drunk and ski naked in Biscayne Bay," says Enrique Iglesias, who is obviously just as passionate about football as he is about music.
"That is what we used to do when we were kids," he explains.
At the time this interview was conducted with the Spanish star, England were playing the crucial game against Slovenia in the first round of the World Cup.
From the hotel room in central London, the screams coming from grown men in suits watching the match in a conference room next door can clearly be heard.
Every time it sounds like a goal has been played, Iglesias leaps out of his chair to find out what has happened.
Not the best time to interview someone who is football mad.
"If Spain didn't qualify to the next round it would be like writing one of the greatest songs of all time and no-one being able to hear it," he says.
It is only once the game is over and he knows the outcome (they got through in case you were not aware) that Iglesias settles down to talk about his new album - Euphoria - which is out on 5 July.
"The title is about when you try to find those euphoric moments, like when you feel really really good about a song," he explains.
"I feel like I was able to find four or five of those on this album, which I feel happy about"
He is hoping to achieve the same commercial success his 2002 album Escape received, but is adamant he does not care about the reviews.
"I have never cared about the critics," he says.
"I don't mean that disrespectfully, but it's difficult for a critic to be impartial.
"I care about what the fans think and what I truly care about is me liking the album. I know that I'm going to have to defend it and promote it and stand by the album, and if it doesn't make me happy then I'm not going to have the strength to sit in a room and do 80 interviews a day."
Having been in the music industry for 15 years, Iglesias says he has had more than his fair share of ups and downs, but remains philosophical about it.
"It's definitely a learning experience, because if you get the chance to feel what it's like to feel up, it's great, but the down is horrible. If you get to go up again, you know you won't take it for granted."
Although a private person, much has been written about his on-off relationship with tennis player Anna Kournikova.
They met on the set of his video to the track Escape.
Speculation followed that the couple had secretly got engaged and later married.
"The reason I sometimes give stupid answers in interviews is because I get asked stupid questions," Iglesias says.
"If a journalist comes in to a room and says 'you've been married for three years, how is it?' I'm going to tell her that I'm divorced, because I've never been married, so maybe they should do their research."
The singer says he blames Twitter and Facebook for the lack of privacy there is for people in the public eye.
"There are some places you're not allowed cell phones with cameras and I've actually been to a bunch of places where it says no Twittering allowed," he says.
Armed with an entourage of only two people and a rider list on tour asking for "water and a clean hotel", it does not seem that fame has affected Iglesias in the way it has with some.
"When I'm not working I love having my private time and being able to walk around," he says.
The star, who says his fans are mainly male aged between 16 and 35, does admit that he has had some disturbing mail before.
"I got something pretty disgusting one time," he says.
"I got sent a used tampon about seven years ago. It got to my office. It definitely caught everyone's attention, it's definitely original, but why would you send that?"
Enrique Iglesias' new single I Like It is out on 28 June.
Related Internet Links
The BBC is not responsible for the content of external sites.