Cathedral church of East Anglia celebrates centenary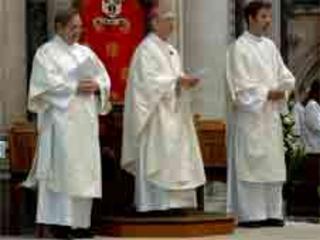 A cathedral that was once the largest parish church in England is celebrating its centenary this weekend.
Dedication of the completed St John the Baptist church in Norwich took place on 24 June 1910 and a thanksgiving service was held on the same date in 2010.
The church became a cathedral in 1976 when the Diocese of East Anglia was set up by the Vatican.
Work started on the building in 1882 with a grant of £200,000 from Sir Henry Fitzalan-Howard, 15th Duke of Norfolk.
He wanted to build a church to mark his happy marriage to Lady Flora Hastings but she died in 1887 and it was not completed until 1910.
For 66 years it was a Roman Catholic parish church in the growing city of Norwich which saw an influx of people from other parts of the British Isles.
During the war years, many Roman Catholics from Europe and America fighting in the Allied forces were based in East Anglia and some of them stayed.
The diocese of Northampton was split in to two in 1976.
The counties of Cambridgeshire, Norfolk and Suffolk became the diocese of East Anglia.
This year the cathedral has seen a large extension built with the help of donations and a grant from the Heritage Lottery Fund.
The extension, called the Narthex, contains education display areas, a shop, refectory, halls for social gathering and catering facilities.
In the early church, a narthex was a place for people preparing to join the church listened to services and where secular events took place outside the nave of the church.
Edward Fitzalan-Howard, the 18th Duke of Norfolk, came to St John's Cathedral to mark the official opening of the new Narthex six years after the campaign to build it was launched.
The Duke toasted the success of the fundraising and said: "The cathedral is now 100 years old and there is a new part of it which really helps mix the modern with the traditional.
"The Narthex is a great project and the building can be used by a wide range of people.
"Everyone has been incredibly supportive and it is a great welcome to the cathedral and to Norfolk."
The cathedral is also holding a festival of flowers and a display of wedding dresses from each decade of the past 100 years as part of its centenary celebrations.