Witnesses 'fear Portstewart murder accused' court told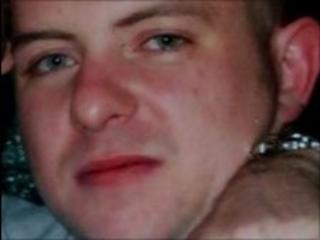 Witnesses are still frightened to make statements to police about the alleged murder of a man outside a north coast nightclub, the High Court has heard.
Trevor Spiers, 28, died after being attacked during a night out in Portstewart last December.
Francis McCormick, 31, who is accused of his murder, was seeking to vary an order for him to stay in Manchester as part of bail conditions.
His application was denied due to the ongoing inquiry
The court was told the victim had gone to Bar 7 with friends, one of whom was allegedly approached and assaulted by Mr McCormick outside the venue.
According to the prosecution Mr Spiers, a local man, intervened and was then knocked to the ground.
Post-mortem findings indicated the victim had suffered injuries consistent with being kicked to the head, the court heard.
'Fearful'
Opposing the change to bail conditions, a prosecuting lawyer said Mr Spiers' mother had a heart condition and was concerned about meeting the accused in the street.
She added: "There are still witnesses fearful of making statements."
The barrister said police believed there would be less chance of encouraging them to come forward if Mr McCormick, of Cappaghmore Manor, Portstewart, was back in the area.
However, a lawyer for the accused, argued no-one had picked out his client as having attacking the dead man.
"All the witnesses spoke to have failed to identify Mr McCormick despite claiming they knew him particularly well," he said.
He also told the court the accused's vehicle revovery business was suffering due to his absence and claimed he could run it better if allowed to return.
But refusing the application, Lord Justice Girvan said: "Inquiries are ongoing, the address that is put forward in Coleraine is in close proximity to the scene of the crime and also to potential witnesses in relation to the incident."