Alleged Jamaica drug lord Coke pleads not guilty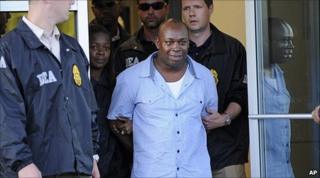 Suspected Jamaican drug lord Christopher "Dudus" Coke has pleaded not guilty to US charges of drug and gun-trafficking.
Mr Coke, 41, entered the plea in a New York court after being extradited from Jamaica on Thursday.
Mr Coke waived his rights to challenge the extradition. If convicted, he faces life in prison.
Attempts to capture him in May led to clashes in which scores of people died. He was finally detained on Tuesday.
'Community leader'
Mr Coke entered the plea at Manhattan federal court on Friday.
"As I understand, you are pleading not guilty at this time. That is what your lawyer said," Judge Robert Patterson was quoted as saying by the AFP news agency.
Mr Coke's lawyer Russel Newfeld replied: "Yes, that is right."
The judge then ordered that Mr Coke be remanded in custody, before he set a new hearing for 28 June to decide whether he should be jailed indefinitely pending trial, the AFP news agency reports.
On Thursday, Mr Coke made a brief appearance before a Jamaican judge in Kingston to announce that he was waiving his rights to challenge the extradition. He was later flown to the US.
Mr Coke said he believed he could win the case in the Jamaican courts.
But he added that he would go to the US to stand trial for the sake of his family, the people of Tivoli in west Kingston and Jamaica.
The US justice department says Mr Coke is one of the world's most dangerous drug lords, but his supporters say he is a community leader.
Tivoli Gardens clashes
Mr Coke is accused of being the leader of the notorious Shower Posse, which US prosecutors say operates an international drug and gun smuggling network.
They say that Mr Coke conspired to distribute cocaine and marijuana throughout the eastern United States for more than 15 years.
The Shower Posse is also blamed for numerous murders.
The pursuit of Mr Coke has shed light on the links between politicians and gang leaders in Jamaica.
Prime Minister Bruce Golding is said to have relied on Mr Coke to turn out the vote at election time in the Tivoli Gardens district he represents in parliament, and which the Shower Posse controls.
When Mr Coke was first indicted in the US last August, Mr Golding initially fought the extradition, arguing that it was based on flawed evidence.
But after months of delays and amid growing local and international criticism, he agreed to extradite the suspect and signed an arrest warrant in May.
However, gunmen loyal to Mr Coke in Tivoli Gardens barricaded the streets and mounted attacks against the police.
A state of emergency was declared and more than 70 people were killed in four days of gun battles, during which Mr Coke was able to escape. The security forces have since been accused of using excessive force.