Rules tightened for council-funded newspapers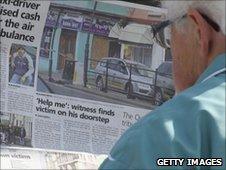 The government wants to tighten the rules on council-run free newspapers.
Local Government Secretary Eric Pickles said independent local papers should not face competition from "propaganda on the rates".
Mr Pickles wants to stop what he called "town hall Pravdas" passing themselves off as independent journalism.
The Local Government Association said most council publications come out a few times a year and are not serious competitors for advertising revenue.
The government will hold a consultation on the best way to tighten the rules.
The Newspaper Society has welcomed the government's move to tighten the council publicity code, saying local papers fulfilled a vital democratic role.
Mr Pickles said: "The previous government's weakening of the rules on town hall publicity not only wasted taxpayers' money and added to the wave of junk mail, but has undermined a free press.
"Councils should spend less time and money on weekly town hall Pravdas that end up in the bin, and focus more on frontline services like providing regular rubbish collections.
"In an internet age, commercial newspapers should expect over time less state advertising as more information is syndicated online for free.
"The flipside is our free press should not face state competition from propaganda on the rates dressed up as local reporting."
BBC media correspondent Torin Douglas said that in recent years, council-funded newspapers had grown in number and frequency.
Meanwhile independent papers, meant to hold local councils to account, have been hit by a drop in advertising and sales.
The government says publicity can communicate council business effectively, but some council papers publish TV listings and sports coverage, and compete for local advertising.
This undermines commercial publishers, our correspondent added.
Ministers also want to ensure that any council publicity provides value for money.
According to a Communities and Local Government department spokesman, some councils "have done better than others" in handling their publications.
The government will now consult with councils - as they are legally obliged to do - and form a plan "by the end of the summer" as how best to tighten the rules.
The Local Government Association said it had submitted a survey to all 353 councils in England, which had been responded to by 199 local authorities.
Of these, only 1.1% produced a weekly publication, it said, with the most popular frequency being quarterly.
A spokesman for the LGA added: "Councils want to see a successful and vibrant local media.
"It is essential for local democracy that the workings of town halls are scrutinised and elected representatives held to account.
"Most council publications are only distributed a handful of times a year and are not significant competitors for advertising revenue.
"Only council publications can keep residents fully informed about the services on offer where they live."
Related Internet Links
The BBC is not responsible for the content of external sites.