Royal College of GPs warns over new health visitors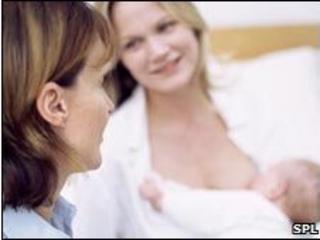 The Royal College of GPs says thousands of new health visitors whom the government plans to recruit should not solely be placed in children's centres.
Over 4,000 more health visitors have been promised in England, focused in Sure Start centres.
GPs say there is already a breakdown in communication with health visitors who work in the centres, and placing more there would make it worse.
But children's charities say parents need a more informal approach.
Health visitors have usually worked out of GPs' surgeries - but the growth of Sure Start children's centres has seen more moving to them.
The children's charity 4children says having health visitors based in these centres means there is less need for mothers to use GPs' surgeries for non-urgent problems and advice.
'Get engaged'
The Royal College of GPs says its members are seeing a worrying pattern developing, where vital information is not being passed back to them.
It says GPs need to be more actively involved in the the care of mothers during and after their pregnancy, and health visitors have to link in more with GP practices.
Professor Steve Fields of the Royal College of GPs said: "Mums-to-be are not getting the service they could have had five or 10 years ago.
"It is an unintended consequence of children's centres being established and health visitors moving out of GPs' surgeries and GPs not being as actively involved the care of mums-to-be during their pregnancy.
"What we have to do very quickly, is to get GPs more engaged during pregnancy and to get the health visitors to link in much more with the practices."
Anne Longfield, chief executive of 4children, said: "All parents tell us that they want support as early as possible that is easy to access and near to home.  Getting help early can mean the difference between resolving a problem such as a child sleeping and eating which if left unresolved can lead to a crisis in confidence and even longer term depression.
"4Children is urging government to think creatively about the support offered to parents and to maximise the potential of children's centres to create more hubs in the community to support families' health.  Such a move will offer parents better help and save money."
A Department of Health spokesperson said: "The government has committed to increasing the number of health visitors and to focusing Sure Start to ensure that all families get high quality services.
"Ministers are currently looking at how best to deliver this commitment, and will be working across government and with partner organisations. Funding, recruitment and management issues will be addressed in due course."