Rail ticket machines prices 'not always cheapest'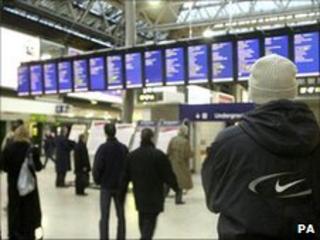 Passenger groups have accused companies of not always offering the cheapest fares on station ticket machines.
Machines in stations are meant to cut queues but the BBC has found passengers are sometimes unable to use machines to buy off-peak tickets in advance.
As a result, some passengers pay too much or are forced to wait for the peak period to end.
Pressure group Passenger Focus said the issue was of concern and "a big problem for some passengers".
If passengers have to wait for the end of the peak period in order to purchase the cheapest ticket, then they can be left with very little time to board the train if it is leaving shortly afterwards.
There are just over 2,200 rail ticket vending machines in the UK.
Jocelyn Pearson, from Passenger Focus, said: "Of course we're very worried because passengers are telling us it's a problem.
"People sometimes go to the machines and then don't have enough time to get onto the platform and get the train they want."
The white-collar rail union, the Transport Salaried Staffs' Association, said the issue showed train companies were putting profits before passengers.
A spokesman for the Association of Train Operating Companies said only a small number of passengers are affected by the problem and companies had promised to look into the issue.
But it insists rail companies do not want to mislead customers by offering fares that are not valid at the time of purchase.