Sunday hottest day of year as temperatures pass 30C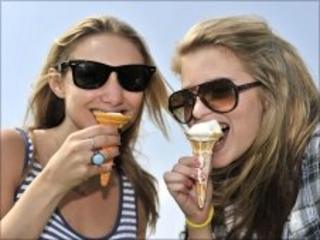 Sunday has been confirmed as the hottest day of the year so far with temperatures exceeding 30C (86F) in some parts of the UK.
Forecasters said the South East of England would remain warmer than average for the rest of the week, with cooler and rainy weather elsewhere.
Gravesend in Kent recorded 30.9C, beating the previous high for 2010 of 28.8C at Heathrow airport on 24 May.
Bookmakers have now cut the odds of a record-breaking summer.
Heat stroke
Thousands of people flocked to beaches or held barbecues and parties in the garden to watch the World Cup.
At Glastonbury, music fans enjoyed the "hottest ever" festival, ditching the wellies for the first time in years.
Medics there have treated about 3,000 people, mostly for heat stroke and other sun-related ailments.
The prolonged good weather meant organisers of Wimbledon were able to keep the tennis tournament's middle Sunday as its traditional day of rest.
Meanwhile, the threat of a hosepipe ban is looming over residents of north-west England.
United Utilities, the water company that provides water to the region's seven million people, has applied for a drought permit.
The hot weather has been caused by an area of low pressure to the north west of the UK which is allowing warm air to travel in from southern Europe.
While the South East should remain settled and dry, forecasters predicted showers - and possibly torrential rain - would affect most places by Monday night.