Newspaper review: England World Cup match previewed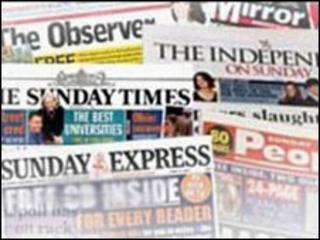 England's World Cup clash with old foes Germany dominates the Sunday papers.
The Sunday Mirror ignored pleas from a German minister not to mention the war, accusing the press there of launching "a vicious verbal blitz" on "our boys".
The Mail on Sunday follows suit, declaring it "Sun and Hun day", while reporting on the inflatable Spitfire displayed by some fans in South Africa.
But the Observer's Henry Porter finds the irrelevance of the jibes - aimed at a multicultural German squad - funny.
The People says it has brought in a Witch Doctor to cast a spell on what it calls the old enemy. "Can we win it?" the paper asks, "Curse We Can".
Landlord helpline
The Sunday Express claims the economy would get a £2.3bn windfall if England wins and goes on to play in the final.
The Independent on Sunday reports an estimated 30 million people are expected to tune in to watch.
The News of the World says landlords in Bloemfontein who run out of drink have been given a phone line for supplies.
The VAT rise and Budget aftermath feature in many of the Sunday titles.
A Sunday Telegraph poll revealed the VAT rise was the only measure without majority support - but gave the Lib Dems their lowest rating for 18 months.
A poll in the Observer suggests Nick Clegg is suffering a "public backlash" over what it calls his U-turn on VAT.
But writing in the Independent on Sunday, Mr Clegg says it would have been "a moral betrayal" to choose the easy route on the economy.
Health kick
The Mail on Sunday reports that British shoppers are to be banned from buying eggs by the dozen under new regulations approved by the European Parliament.
Doctors are to call for alcohol to be banned on all buses and trains to end binge drinking, the Sunday Mirror says.
The Welsh Assembly has banned the sale of tea or coffee with sugar in vending machines because of the risk to dental health, according to the Sunday Times.
Cheddar cheese sandwiches are also banned because of their fat content.