Nine rescued by hovercraft from mud flats near Weston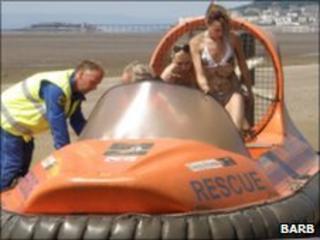 Nine people have been rescued by hovercraft from mud flats off the North Somerset coast after they got stranded while trying to reach the sea.
A walker on Brean Down raised the alarm after spotting several groups struggling in waist-deep mud about a mile from the shore.
A coastguard spokesman said Saturday's rescue was a "serious situation" because of the incoming tide.
He said: "The tide was coming in quickly."
Two hovercraft from the Burnham-on-Sea-based rescue charity BARB were called to nearby Uphill, along with a team of six coastguards.
The Light Of Elizabeth hovercraft was taken out on to the mud flats and a group of five men from Cardiff were taken on board and brought back to the beach.
Two women from Bristol, aged 25 and 22, were rescued a few minutes later, followed by a further two men, both aged 21 and from Gloucestershire.
One of those rescued said: "Walking out to reach the sea seemed a good idea at the time, but the mud got very deep as we approached the water.
"We got stuck waist-deep - seeing the hovercraft coming to help us was a wonderful moment. We are so grateful to everyone."
Rescue boat spokesman Mark Newman added: "BARB has never rescued so many people during one afternoon in the charity's 19-year history.
"Our volunteer crews were relieved to be able to rescue all nine people safely.
"The sea does look tempting during hot weather, but ignoring the warning signs and wading across the mud flats to reach the water puts lives at risk."
The charity has helped and rescued more than 200 people in Somerset over the past 19 years.