Firefighters protest over changes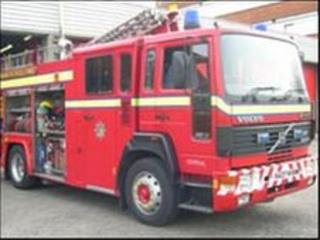 Firefighters from across south Wales are to protest at a fire authority meeting over changes which they say will lead to 48 losing their jobs.
Their union claims a new duty system to help save South Wales Fire and Rescue Service £1.5m will cut the number of firefighters at three stations.
They also fear it will lead to longer hours.
But Deputy Chief Fire Officer Kevin Barry said there was "a great deal of misunderstanding" about the issue.
He said staff should engage in consultation before "jumping to conclusions" about the self-rostering system planned for three stations.
Firefighters will lobby members of the fire authority at their meeting at its headquarters in Llantrisant, Rhondda Cynon Taf on Monday.
It believes the meeting will be discussing an early retirement scheme linked to the £1.5m savings plan and new working patterns.
The Fire Brigades Union (FBU) is fighting plans to bring in the changes at three fire stations - New Inn in Pontypool, Penarth and Maesteg.
It says that as a result, 48 firefighter jobs will go and the working hours of crews who remain will double.
South Wales FBU Brigade chair, Mark Watt, said members were totally opposed to the introduction of this self-rostering duty system. He said they would respond to the consultation process "with a resounding no."
Mr Watt said the union believes the fire service plans to roll out the changes further.
"That means there will be massive job losses, huge health, safety and welfare implications for our members and a virtual working week of some 90 to 100 hours."
'Very quiet'
"This is totally unacceptable to our members and they intend to fight it."
But the deputy chief fire officer said the item of voluntary early retirement being discussed by the fire authority was linked to operational staff.
Kevin Barry added: "There appears to be a great deal of misunderstanding around the whole issue of self-rostering at Penarth, New Inn and Maesteg.
"This is why we are in the middle of a series of station visits to give our staff the background knowledge on which to make an informed decision about this alternative shift pattern arrangement.
He said they agreed that self-rostering is only suitable for "very quiet" stations.
"We also recognise that this shift pattern is not for everyone, which is why transfer onto the scheme will be voluntary."
"In return for providing additional hours on standby at the station, staff will receive an additional self-rostering allowance in the region of 20% of their gross salary."
Under the changes, he said staff will be "required to provide availability" for 152 days a year, leaving 213 days free from duty.
Mr Barry said they would not consider implementing any duty system that "had the potential to adversely effect the health, safety and welfare of our staff."
A series of mass meetings of FBU members are being held across south Wales in the next few weeks to gauge the strength of feeling for taking more action.