MP calls for independent review of services at hospital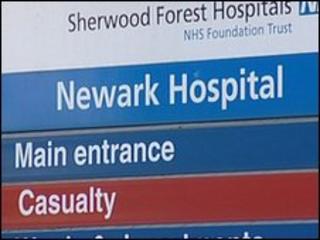 A Nottinghamshire MP has called for an independent review into the future of Newark Hospital.
Patrick Mercer said plans to replace the accident and emergency department at the hospital with a minor injuries unit were unacceptable.
He has asked the secretary of state for health for an inquiry into the changes announced on 17 June.
NHS Nottinghamshire County said the town would receive extra ambulance cover and more out-of-hours GP care.
'Fundamental change'
The trust said a new service will provide a GP presence at Newark Hospital overnight so local people will no longer have to travel to King's Mill Hospital in Sutton-in-Ashfield to see a GP out of hours.
But Mr Mercer said the consultation process was flawed and an independent review was needed.
"It is crucial that services are not reduced in a town whose population is expanding," he said.
He added: "Clearly the re-routing of all 'blue light' emergencies away from Newark, and the closure of a surgical ward is a fundamental change of services."
Earlier in the year, protest groups gathered a 5,000-name petition against the changes and organised a human chain around the hospital.
The consultation on plans to close the department received more than 700 replies and nearly 75% said they wanted round-the-clock emergency care at the hospital.