Sky Sports 1 and 2 available to BT Vision customers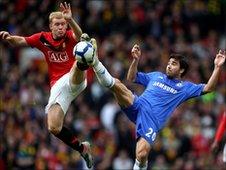 BT and Sky have signed a deal that will allow BT Vision customers to watch Sky Sports 1 and Sky Sports 2.
Customers will be able to view the channels from 1 August, in time for the start of the domestic football season.
In March, Ofcom ruled that Sky would have to cut the price it charged rivals to show its premium sports channels.
BT is yet to reveal its pricing. In the past it said it would charge about £15 a month for Sky Sports 1, but Ofcom's charges were higher than it expected.
The regulator said that Sky would have to sell Sky Sports 1 and 2 for £10.63 a month each to rival broadcasters - 23.4% less than previously.
If the two channels were sold together, Ofcom set a price of £17.14 - a discount of 10.5% on previous wholesale charges.
But Sky appealed against the ruling and the difference between its original wholesale prices and the new prices is currently being held in an escrow account, to be released to either Sky or its rivals once the appeal is decided.
Ofcom's ruling followed a three-year inquiry after BT, Virgin, Top Up TV and the now defunct Setanta expressed concerns about Sky's dominance of the pay-TV industry. Sky has an estimated 85% of the market.
Michael Phillips of Digitalchoices.co.uk said: "This is another exciting development for football fans which has also recently seen Virgin Media lower the pricing of its Sky Sports packages ahead of the new season.
"Once BT's pricing is announced we would urge football fans to compare the Sky Sports options available in their area, ahead of the new season."
Related Internet Links
The BBC is not responsible for the content of external sites.