£5.2m boost creates 49 jobs at Kilkeel plane seat firm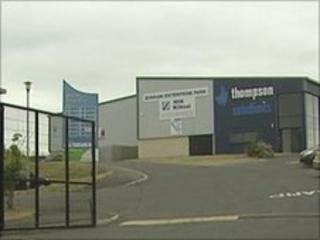 A small Kilkeel company which makes aeroplane seats is boosting its business with a £5.2m investment that will create 49 highly skilled jobs.
Thompson Aero Seating Ltd develops seating designs for many of the major international airlines.
The company has already secured £1.6m in engineering contracts from a number of world airlines and plans to generate £23m in sales outside Northern Ireland.
Invest NI has offered £875,000 of support.
NI Enterprise Minister Arlene Foster: "This is a significant investment from Thompson Aero Seating.
"The products designed are highly innovative and have the potential to revolutionise the global civil aircraft seating market, generating over 34m dollars in export sales."
"By commercialising the seating, which also benefits from having a design protected by patent, the company will not just enhance its market position and create employment, but bolster the credibility and reputation of Northern Ireland's aerospace sector as a whole."
James Thompson of Thompson Aero Seating, said: "We have worked hard to research and develop a new level of passenger comfort and design in aircraft seating.
"This investment will enhance our production capability and ensure that we not only attract and secure orders from the world's major airlines, but can fulfil them much faster."
The MP for South Down, Margaret Ritchie, SDLP, acknowledged the company's hard work.
"I hope this investment will provide many job opportunities for the local community in this difficult economic climate," she said.
"I have no doubt that this financial boost for Kilkeel will further emphasise the entrepreneurial spirit of the town and recognise Kilkeel as a centre for the aero craft industry across the globe."