Hybrid production starts at Burnaston plant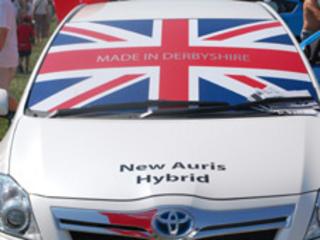 Production of the new Toyota Auris Hybrid car has begun in Derbyshire.
The Japanese firm said the vehicle is Europe's first mass-produced hybrid car and has secured 400 jobs at the Burnaston plant.
Hybrid versions of other Toyota models are made in countries such as the US and Japan but this is the first to be manufactured in the UK.
The car, which switches between two electric motors and a 1.8 litre petrol engine, goes on sale on 1 July.
'Proud day'
Business Secretary Vince Cable, who toured the factory on Monday, said: "Toyota's decision to make Burnaston the only plant in the world to build the Hybrid Auris is a strong endorsement of the UK as a manufacturing base for the next generation of cars."
Katsunori Kojima, managing director of Toyota Manufacturing UK said: "It is a proud day for Toyota Manufacturing UK as we celebrate the official start of production of the Auris Hybrid Synergy Drive, yet another premium quality model to be built in Britain.
"As a model sustainable plant for Toyota in Europe we will truly be an eco plant with eco-minded people building eco cars."
The plant in Burnaston was shut down for a fortnight in April as a response to the global slowdown in vehicle sales.
The workforce has also agreed to a pay freeze in 2010, though a 10% cut in hours and wages has ended.
The factory produces the Auris and Avensis models and currently employs about 3,800 people.