Auditor general hopeful before interview committee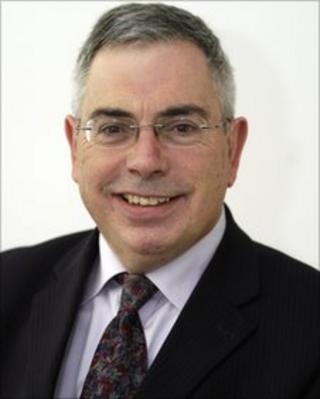 The Wales Audit Office should be the "engine room" of public services in Wales, according to the preferred candidate to take over as auditor general.
Hugh Vaughan Thomas told members of the National Assembly's Public Accounts Committee (PAC) that the audit office should set the public sector in Wales on a path to continuous self-improvement.
Mr Vaughan Thomas, currently chair of Big Lottery Fund Wales, had to make a presentation to the PAC on Tuesday.
The former civil servant and council chief executive also said the audit office should be an "exemplar" organisation.
'Final approval'
Mr Vaughan Thomas must win approval from PAC and assembly members as a whole.
Then before he can take up his duties in the post vacated by Jeremy Colman, the Queen must give her final say on the appointment.
The Auditor General for Wales heads the Wales Audit Office, which is independent of government and is responsible for the annual audit of some £20bn of annual public expenditure.
The appointment comes at a time when the assembly government is expected to have to cut around £2bn from its budget in real terms over the next four years.
Because of this squeeze on public expenditure, the post is regarded as one of the most influential positions in the public sector in Wales.
Speaking in the Senedd building, Mr Thomas said he was "passionate" about Wales and the ethos of public service, as well as delivering excellence.
He explained his role as providing leadership, the empowerment of staff, checking the "direction of travel" of the organisation, and to concentrate activities on "risk based priorities".
Although not an auditor by training, Mr Thomas has extensive experience of working at senior levels within the public sector - and stressed that he had enjoyed a career in "change management" - including a strong background in dealing with personal changes and negotiations with trade unions.
"I'm not an accountant", he said, but stressed that he had been an accounting officer and chaired various audit committees with responsibility for large amonts of public money.
After working in the Department of Employment throughout the 1970s, he was promoted to became its Director for Wales in 1988, and also served as director of the Manpower Services Commission.
He held positions as chief executive of Gwynedd and subsequently Denbighshire councils throughout the 1990s, before running his own consultancy business and serving on numerous bodies in the public and voluntary sectors.
He has experience as a member of the Higher Education Funding Council for Wales, a council member of the Prince's Trust Cymru, a member of the National Trust's Committee for Wales, a trustee of the RNID and a lay member of the Law Society's Governing Council.
If approved by the PAC, Mr Thomas' appointment will go before all assembly members for formal political approval on 13th July.