German WWII bombing on Jersey commemorated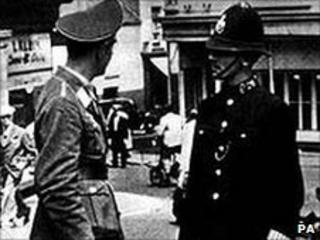 A service has taken place to mark the 70th anniversary of the German bombing on Jersey during World War II.
The air raid on St Helier harbour and La Rocque heralded the start of the German military occupation of the island, which lasted five years.
Nine people lost their lives in the bombing on 28 June 1940 and many others were injured.
A wreath was laid at the Albert Pier by the relatives of some of the victims as part of the ceremony.
Simon Crowcroft, Constable of St Helier, said: "We felt as a parish it was important to mark this anniversary.
"In Jersey it was the first time it had been invaded since 1781 when the French invaded.
"Jersey had enjoyed more than a century-and-a-half of freedom from invasion.
"The bombing must have been a totally frightening experience for the people who were still in Jersey."
When Germany carried out the air raid, they were unaware that Jersey had been left undefended.
A decision to leave Jersey without troops and military equipment was made on 17 June 1940.
Ships were sent to evacuate anyone who wished to leave.
More than 23,000 islanders registered to leave, but only 6,500 actually left.
Guernsey was bombed on the same day and suffered more casualties than Jersey.
Thirty-three people were killed and 67 were injured when three German planes bombed St Peter Port Harbour.