Ampera paves the way for GM Europe revival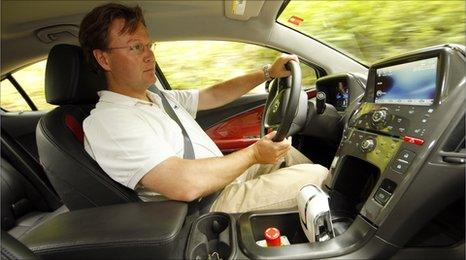 Driving a car through the Chiltern Hills, with its brick and flint cottages in its chocolate box towns, offers proof if proof was needed: nostalgia is a powerful emotion.
Unless, that is, the car in question is a thing of the future.
The Ampera E-Rev, short for extended range electric vehicle, is a Vauxhall with a16kWh, 400lb lithium-ion battery pack that delivers 40 miles of motoring and a 1.4 litre petrol engine that extends the car's range to 350 miles.
As such, the Ampera may well be GM Europe's best attempt yet at shaking off the past and moving forward following last year's crisis - a crisis that saw its parent company General Motors (GM) file for bankruptcy, only to be rescued at vast expense by the US taxpayer.
"This car will be a great boost for the Opel and Vauxhall brands," predicts launch manager Ian Allen.
A thirsty-looking 4x4 is waiting to enter the road as the Ampera whizzes past the Toad Hall garden centre outside Henley-on-Thames.
It is tempting to see it as yet another thing of the past; a reminder of a time when petrol was cheap, when gas-guzzlers were in vogue and when GM spent more time dodging emission regulations than developing new cars.
With the "Old General" busy installing comfortable seats and flashy sound systems in its trucks, a gap in the market was emerging.
It was quickly filled by foreign rivals offering American drivers better fuel economy and lower emissions, a process culminating in the staggering success of Toyota's hybrid petrol-electric Prius models.
For GM's former management, the Prius came as a wake-up call, though by the time they unveiled their own petrol-electric concept car at the Detroit motor show in January 2007, it was widely agreed that they were late to the party.
Since then, opinion has changed.
When the US version of the Ampera, the Volt, hits the road in the US this autumn, it will not be pitched as a rival to the Prius. Indeed, it will not be presented as a plug-in hybrid car.
Increasingly, the Ampera is seen as an electric car; one that will primarily be charged through a conventional electric plug and compete with pure electric cars such as the Nissan Leaf or the Tesla Roadster.
The Ampera's range is much shorter than rival electric cars, so its battery runs out of power on a tree-lined avenue leading towards Wallingford.
But this car has a secret weapon. Under the bonnet, there is a conventional 1.4 litre combustion engine that runs an electric generator, which in turn enables the electric motor to go on and on as long as there is petrol in the tank.
"It is a bridge from the hybrid to the pure electric vehicle," according to Mr Allen.
Getting into the fast lane on the M40 motorway, heading back towards the Chilterns, proves difficult, though.
Initially, the car accelerates swiftly, though at higher speeds it soon begins to feel heavy and underpowered.
Pedal to the metal results in a sluggish, delayed response reminiscent of the turbo-lag common in cars during the late 1980s, so a bit of patience is required before the car picks up speed.
GM Europe, which sells Opel on the Continent and Vauxhall in the UK, has been similarly slow to pick up the pace in the wake of its US parent's bankruptcy filing a year ago.
Months of talks about selling Opel and Vauxhall resulted in GM deciding to hold on to its European subsidiary.
This was followed by extensive negotiations with workers as part of a restructuring set to result in one in five jobs in Europe being lost, as well as by futile talks with the German government about getting large loan guarantees.
On the country lanes that link the motorway with Marlow, the Ampera's 1.8 tonne of weight can be felt, but, rather than being uncomfortable, it just adds to the car's momentum as it winds its way past the Rebellion brewery.
GM Europe is also gaining momentum, according to chief executive Nick Reilly.
Parent company GM has agreed to fully finance the restructuring process, which is set to cost some 3.3bn euros ($4bn; £2.7bn), and the unions have accepted that there will be more than 8,000 job cuts and cost cuts of some 265m euros a year until 2014.
"With new products and the impact of restructuring, we expect to return to profitability shortly," Mr Reilly says.
He now says GM Europe could be back in the black by 2011, ready to push ahead with at least two further extended range models in the years ahead.
But first, GM Europe is set to launch a massive charm offensive in July to bring back customers who deserted it during the last couple of years, and the Ampera may well offer much needed assistance.