Largest flood scheme in Yorkshire completed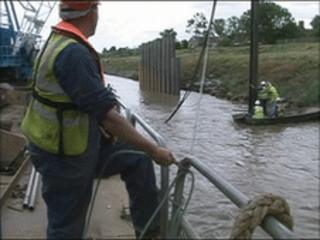 A multi-million pound flood defence scheme has been completed in East Yorkshire.
The flood defences at Swinefleet, near Goole, was the largest scheme built in Yorkshire last year, at a cost of £11.9m.
It protects 290 properties in the village of Swinefleet. But because of the lie of the land it also contributes to protecting around 10,000 properties.
It is part of a 100-year plan for flood risk management around the estuary.
The scheme includes one kilometre of embankment and provides flood protection for Keadby Power Station, three sewage treatment works, two railway lines and three stations, the A614, the A616 and the M18 motorway.
The Environment Agency is investing £36m in flood alleviation schemes for Swinefleet and Brough on the north bank of the Humber, and Stallingborough and Halton Marshes in north Lincolnshire.
In Brough, the new flood scheme will cost £5.8m and protect 174 properties around the village and BAE Systems. Work is due to be finished by the end of this year.