Council set to buy Hastings Pier by compulsory purchase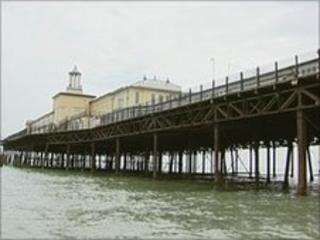 Hastings council has said it is prepared to buy the town's pier by compulsory purchase after a study showed it could be made safe for £3m.
Campaigners have been fighting to secure the pier's future since it shut in 2006 amid fears it could collapse.
After buying the pier by compulsory purchase order, the council would hand it over to Hastings Pier and White Rock Trust (HPWRT) to carry out the work.
A decision on the compulsory purchase order will be made on 12 July.
The pier is owned by Panamanian-registered company Ravenclaw, which the council has been unable to contact to discuss its future.
Council leader Jeremy Birch said the feasibility study looked "very optimistic".
'Get resources'
The £3m figure, which would have to come from grants from bodies such as the Heritage Lottery Fund, would cover initial restoration and work to make the structure safe.
The second stage would involve investment to open businesses on the pier to produce income which would finance the third stage of restoration and improvement.
"We are committed to work with the pier trust to purchase the pier and pass it on to them," said Mr Birch.
"The work then starts for them to get the resources to carry out the restoration and improvements."
Chris Dodswell, of HPWRT, said the council was providing all the support it could.
"They will be providing the legal process but we still need support from all the people of Hastings and beyond," he said.
"Although we will be raising the bulk of the money funds such as the Heritage Lottery Fund we will only raise the money if those funders see we have got the support of everyone in the town, which I believe we have."