Ministers 'must release' Shirley McKie print files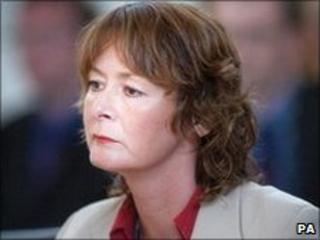 Scottish ministers have been ordered to release more than 100 previously-withheld documents relating to the Shirley McKie fingerprint case.
Information Commissioner Kevin Dunion said his decision was made in the public interest.
Former police officer Ms McKie was cleared of perjury after she was accused of leaving her fingerprints at a murder scene in Kilmarnock.
The Scottish government said it was considering the commissioner's ruling.
Ms McKie was awarded £750,000 in compensation following her trial.
The case, which dates back more than 10 years, is one of the most controversial handled by the Scottish justice system and raised questions about the integrity of the fingerprint service.
The new information to be released to the McKie family runs to 131 documents.
Mr Dunion said: "The Shirley McKie case has involved considerable public expense, affected the lives of many individuals, and called the Scottish fingerprint service into question.
"There is a significant public interest in knowing that Scotland has a fingerprint service which ensures that correct identifications are made, so that justice can be served."
Mr Dunion's decision came after one of the most complicated freedom of information investigations to date, involving information contained in more than 630 documents and the application by the ministers of 10 separate exemptions on the release of files.
The information commissioner also said the government was right to withhold information contained in 507 documents, which largely related to confidential legal advice supplied to ministers, which is subject to legal privilege.
Criminal action
He added: "The principle of maintaining confidentiality in the communications between a client and their legal adviser is a basic condition for the administration of justice.
"Had I found evidence in the information of wrong-doing, or of unreasonable or reprehensible behaviour on the part of ministers, the public interest outcome may well have been very different."
Ms McKie was cleared of perjury after a fingerprint, said to be hers, was found at a house in Kilmarnock where a woman had been murdered in 1997.
She had always denied entering the property, but four fingerprint experts maintained that the print belonged to her.
A subsequent inquiry by Her Majesty's Chief Inspector of Constabulary in 2000 backed Ms McKie and recommended an overhaul of procedures at the Scottish Criminal Records Office.
The four experts at the centre of the controversy were then suspended from duty but the following year the Crown Office ruled out any criminal action against them.
Ms McKie successfully sued the then Scottish Executive and SCRO over the affair and was awarded £750,000 in compensation.
In 2006, the four fingerprint officials at the centre of the case were offered a deal to leave their jobs.
Three of them accepted redundancy in March 2007 and one of them, Fiona McBride, declined and was eventually sacked.
Last year, an employment tribunal ordered her reinstatement.
In 2009, a public inquiry into the case got under way.