ETA suspect 'had fake identity'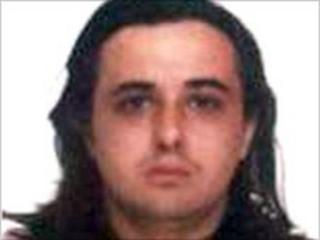 A court has been told that a Basque separatist wanted for car bombings in Madrid has been living in Belfast under a false name for more than two years.
Lawyers for the Spanish authorities said Fermin Vila Michelena had been working as a chef in a city centre restaurant.
Pay slips, national insurance and a library card all carried the fake identity.
The judge at Belfast Recorders Court refused to release him on bail.
Mr Vila Michelena, who is 40, was arrested last week in a joint operation by the PSNI and the Spanish Civil Guard.
He was then detained again on Saturday under a European arrest warrant issued over his alleged involvement in murder and possession of explosives.
His barrister said he would be fighting extradition moves.
The Spanish interior ministry has claimed he was part of Eta's Madrid cell, which carried out four bombings, before fleeing to France.
During a preliminary hearing at Belfast Recorder's Court on Monday, his barrister Sean Devine said he would not be consenting to the extradition request.
European elections
Seeking bail for his client, Mr Devine said Mr Vila Michelena had settled in Northern Ireland since arriving in 2007.
The court heard he left his home in the Basque country in September 2000, with Spanish police having sought him for three months prior to the attack in 2001 he is wanted for.
Mr Devine set out how Vila Michelena stood as a candidate in the 1994 European elections for the Basque separatist Herri Batasuna party, which was later banned in Spain over its links to Eta.
The barrister accepted his client, who lived alone at a flat in north Belfast, was using an assumed name.
But he claimed this was to avoid detection from the Spanish authorities and persecution for his beliefs.
"He has long admired the ongoing political process here and he considered that this would be a safe place for him to settle and reside and live something of a normal life," he told the court.
"The requested person considers himself to be a political refugee."
Stephen Ritchie, for the Kingdom of Spain, disclosed that Mr Vila Michelena had been using a Spanish identification card issued in another name.
"What we haven't heard is why he lives under a false name," Mr Ritchie argued.
"There are a number of other documents. There is a medical card, there is a salary slip, a national insurance card all in this name."
He added: "The significance we say of this man living under a false identification is quite obviously he has access to high quality counterfeiting. The card is of very high quality."
Opposing bail, Mr Ritchie claimed he may flee due to the seriousness of the offences.
Refusing to release Vila Michelena, the Recorder for Belfast, Judge Tom Burgess said: "These are the most serious offences that can be subject to criminal proceedings.
"In all the circumstances, given the fact the defendant has been living under a false name and the access to that documentation... I'm more than satisfied the defendant should be remanded in custody until the hearing of this matter."
A timetable for the case is expected to be agreed later this week, with a full hearing expected in September.
de Juana Chaos
Meanwhile, an appeal by another Basque separatist who was ordered to be extradited to face a charge of glorifying terrorism has been put on hold.
Jose Ignacio de Juana Chaos, who was granted bail to live in Belfast, has not been seen since April.
The convicted killer was due to challenge a ruling that he should be returned to Spain for trial.
But with his whereabouts unknown, judges in the Court of Appeal on Monday agreed to stay the case on the basis that it would be an abuse of process to go ahead with it.