Land around Dorset's famous Hardy Monument bought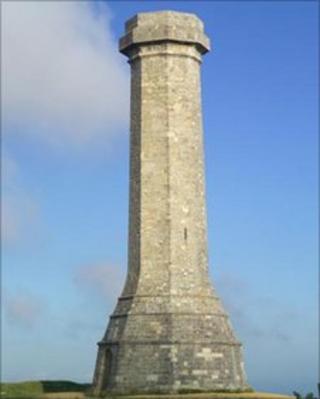 Hundreds of acres of land surrounding one of Dorset's most famous landmarks has been bought by the county council.
The Hardy Monument, near Portesham, was erected in 1844 in memory of Vice Admiral Sir Thomas Hardy.
Sir Thomas, who was born in Dorset, was commander of HMS Victory at the Battle of Trafalgar in 1805, where Admiral Lord Nelson was killed.
Natural England, West Dorset District Council and the Patsy Wood Trust also contributed to the £355,000 costs.
The Patsy Wood Trust made the biggest contribution, a grant, towards the purchase of the 290 acres (117 hectares).
The land was bought from the Forestry Commission, which sold the site as part of its asset disposal programme.
The 72ft (22m) Hardy Monument will remain in the possession of the National Trust.
Public access
The land, known as Blackdown, lies within the Dorset Area of Outstanding Natural Beauty at the highest point of the 17-mile (27km) South Dorset Ridgeway.
It overlooks the World Heritage Site of the Jurassic Coast as well as the Dorset Downs.
A county council spokesperson said: "The site is of considerable national and international importance for its biodiversity, archaeology, local history and heritage.
"The county council will now be responsible for restoring the important heathland landscape.
"The work will involve improving public access, creating learning opportunities and promoting recreation such as walking, picnics and enjoying its views and tranquillity - a source of inspiration for art and poetry."