Calls to ban Mosquito 'teen repellent' device ruled out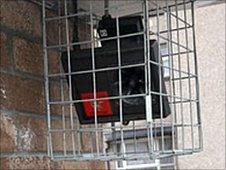 The UK government has rejected calls to ban a device that uses a high-pitched noise to disperse teenage gangs.
Police minister Nick Herbert said it was up to councils dealing with anti-social behaviour to decide whether or not to use the Mosquito.
But the position could be reconsidered if there was evidence young people's health was being damaged, he added.
A report for the Council of Europe last week called for a ban, suggesting its use may breach human rights law.
Mosquitos are generally only heard by people under the age of 25.
Campaigners say they should be banned on the grounds that they unfairly cause discomfort to young ears.
Speaking in the House of Commons, Mr Herbert said: "In relation to the Council of Europe report and the issue of guidance, our stance is that we do not see this as an issue on which we should intervene."
The UK Health and Safety Executive had concluded that while "some short-term subjective effects" were possible with prolonged exposure to the noise, there appeared to be "little likelihood" of people suffering long-term ill health.
If evidence was produced that the devices were harmful to health or hearing in the longer term, "we would reconsider our position", he told Labour former minister Tom Watson.
The Mosquito is believed to have been installed at about 3,500 sites in the UK, including shops, usually to stop groups of teenagers congregating.
The Children's Commissioner for England, Maggie Atkinson, and the National Youth Agency had both welcomed the Council for Europe's move.
Ms Atkinson said it was a "positive step towards preventing discriminatory practices" against children and young people.
"The Mosquito does not prevent anti-social behaviour; it just moves the problem down the road. Children and young people have told us that it is used to deter them from gathering in public areas, even if they are not making trouble."
Related Internet Links
The BBC is not responsible for the content of external sites.