Taiwan and China sign landmark trade agreement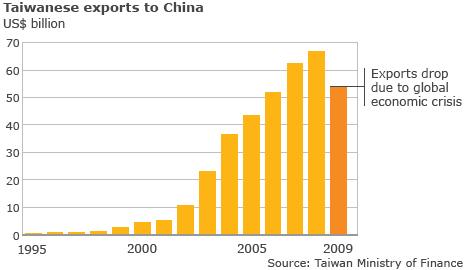 China and Taiwan have signed a historic trade pact, seen as the most significant agreement since civil war split the two governments 60 years ago.
The Economic Co-operation Framework Agreement (ECFA) removes tariffs on hundreds of products.
It could boost bilateral trade that already totals $110bn (£73bn) a year.
Correspondents say that, economically, the deal favours Taiwan but that Beijing hopes for political gains in its long-standing unification campaign.
The deal is seen as the culmination of efforts by Taiwan's President Ma Ying-jeou, elected two years ago with a vow to reduce tension with the mainland.
The deal was signed in the mainland city of Chongqing and was carried live on state television.
Taiwan's envoy Chiang Pin-kung said the agreement was "a critical moment in the development of long-term relations".
His Beijing counterpart, Chen Yunlin, said the pact was an agreement of "equal consultation and mutual benefits".
The pair exchanged gifts and joined in a toast at the ceremony.
The deal is seen as being most economically beneficial to export-reliant Taiwan.
At the moment $80bn in goods flows to China, and $30bn to Taiwan.
Almost $14bn worth of Taiwanese goods exported to China will have their tariffs reduced or removed.
Taiwanese companies will also gain access to a number of mainland service sectors, including banking and insurance.
Chinese exports worth just under $3bn will see their tariffs lowered.
The BBC's Cindy Sui in Taipei says this is clearly a good economic deal for Taiwan but there remains genuine concern among many that the agreement will make Taiwan too economically dependent on China and therefore politically vulnerable.
There have been some street protests in Taiwan against the deal but opinion polls suggest the majority on the island are in favour.
Taiwanese critics say the deal could leave the island's economy open to a flood of cheap imports.
They also worry about China's motives, arguing that Beijing is hoping to use it to win the political support of big business on the island for its own agenda.
Chinese Premier Wen Jiabao has previously said that his country "can give up our profits because Taiwanese compatriots are our brothers".
For decades, relations between the two sides have been strained.
Taiwan and China have been governed separately since the end of a civil war in 1949.
The site of the signing, Chongqing, has historical resonance. Communist leader Mao Zedong and Nationalist President Chiang Kai-shek tried but failed to sign a truce there.
Chiang was forced to Taiwan in 1949.
Related Internet Links
The BBC is not responsible for the content of external sites.