Man rescued after falling into Dorset reservoir tunnel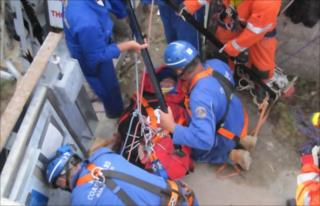 A man has been rescued after falling from scaffolding into a tunnel that feeds an underground dry reservoir in Dorset.
The man, in his 40s, was working at the site behind the young offenders' institution in Portland when he fell.
Coastguard cliff teams and firefighters were sent to pull the man to safety as access was "only through a small area".
He was airlifted by Portland Coastguard helicopter to hospital with head and spinal injuries.