Newspapers seize on Andy Murray's Wimbledon success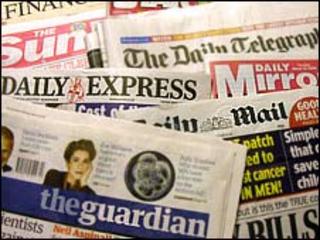 "A proud day for British sport" - an unlikely headline perhaps given the football-induced misery of recent days.
But the Daily Telegraph is talking about Andy Murray who it says has "powered through" to the Wimbledon quarter-finals with a "roar" of celebration.
"At least one sports star is giving us something to cheer," writes the Daily Mail, alongside a picture of Murray's mum.
The Times picks the player's girlfriend for its front page. It says "the Scot's pigheadedness" won him Monday's match.
'Shower due'
When the England team land at Heathrow on Tuesday they will be met by several very unfriendly front pages.
"Disgrace", shouts the Daily Star, referring to shots of players Ledley King and Ashley Cole laughing together just a few hours after Sunday's drubbing by Germany.
"The shameless stars clearly do not share the nation's misery over their abysmal defeat," says the Daily Mirror.
The Sun front page shows a weather map whose forecast reads: "Sunny outlook in many areas but depression over Heathrow as shower drifts in from South Africa."
Political 'fudge'
"A moment missed" - that's the Guardian's verdict on the G20 summit in Toronto, which it thinks "promised too little for a still fragile global economy".
The Independent says the resulting communique was "a fudge" - designed "to allow all the leaders to tell their domestic audiences they had won".
The Financial Times says G20 nations may very well want to strengthen the banks to avoid another credit crunch.
"But they are not exactly busting a gut to do so," it adds.
Health tales
The Daily Express leads with the sad story of what it calls the young mother who "died for a sun tan", six months after being diagnosed with skin cancer.
The paper says Theresa Zawadzki's family "has called for a ban on tanning machines, saying they are to blame".
Another health story on the Daily Mail front page, as it claims immigrant workers will be forced to pay for private medical care in future.
It's a "welcome move", the paper feels, and could ease the pressure on the NHS.