Jail term for wife hammer killing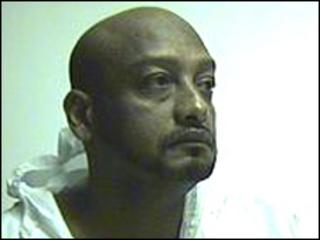 A man has been sentenced to life for murdering his wife by smashing her head with a hammer.
Yahya Babiker, 45, must serve at least 18 years in prison for killing Randa Kamblawi, 34. He was found guilty by unanimous verdict last month.
Babiker had claimed his wife had fallen in the bath at their flat in Nicolson Street, Edinburgh, in October 2009.
Sudanese national Babiker was sentenced at the High Court in Edinburgh on Tuesday.
'Pre-meditated murder'
Judge Lady Stacey said Babiker's action last October was "inexplicable."
Sentencing him, Lady Stacey told Babiker: "You have been convicted by a jury of the brutal and pre-meditated murder of your wife, who was the mother of your two young children.
"You have deprived her of her life and you have deprived her children and her family of her society."
The shopfitter had gone out on the afternoon of 19 October to buy the murder weapon and was caught on CCTV spending £3.99 on a Homebase Value claw hammer.
He was seen trying out a crowbar for size before picking up the hammer and paying for it. Further CCTV images then showed him returning to the flat.
Mrs Kamblawi, a student, was hit at least five times as she lay in bed.
Babiker then wrapped her body in a duvet, put her in a bath of water and began an attempt to cover his tracks.
He tried to flee to Paris, but only got as far as London before returning to Edinburgh and handing himself in to a hospital in the city.
He tried to claim that his wife had died by accident, saying he had pushed her in the bath, for a joke, and she had slipped and struck her head.
But the trial also heard that blood splashes were found on the bedroom walls and in the hallway of the flat, where Babiker had dragged the body, in spite of his attempts to wash them away.
'Precious person'
Det Insp Gary Cunningham, of Lothian and Borders Police, welcomed Babiker's sentence.
He said: "While reflecting the serious nature of the crime committed by Yahya Babiker, the sentence handed down today also reflects the hard work of police and prosecutors to bring him to justice.
"At this time my thoughts are with Randa Kamblawi's family, who have shown remarkable strength and courage during what has been a harrowing ordeal for them.
In a statement the family said: "In terms of the final sentence we feel that justice has been done. Although no prison sentence will ever be enough for the terrible crime he has committed.
"We can now move forward knowing that he will be punished for his actions, although we are still baffled as to what made him commit such a crime."
Randa's mother in Sudan said: "I have lost the most precious person in my life to a horrendous crime. My grandchildren are the true victims in this, and therefore my main aim is to see them as soon as possible and help in their upbringing."