MSPs air TV channel plan concerns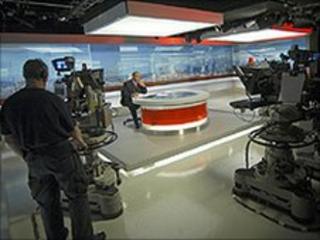 MSPs have voiced concerns about the impact a proposed new Scottish television channel could have on the newspaper industry.
The Scottish Broadcasting Commission has already called for a new Scottish network to be established, with a digital TV channel and online content.
But members of Holyrood's culture committee said ministers should assess the impact of such a move on papers.
The Scottish government has supported the idea of a Scottish digital network.
But the parliamentary committee said it remained concerned.
"The committee notes that the incoming UK Government has halted plans for independently-funded news consortia," it said in a report released on Friday.
"It remains unclear whether the proposals for a Scottish network, as recommended by the Scottish Broadcasting Commission, will be taken forward.
"However, if the proposals were to be developed, the committee would ask the Scottish government to assess what impact they might have on the printed media."
In other findings, the committee said local newspaper groups must develop a business model which allowed them to compete with other news providers and keep pace with technological developments while maintaining investment in journalists.
Challenging environment
Committee convener Karen Whitefield MSP said: "It's imperative that the newspaper industry keeps pace with, and adapts to, technological and cultural changes in the media landscape.
"Local newspapers are a vital training ground for journalists and have an important role to play in representing communities' views on a number of issues.
"While it is up to the industry to manage its own future, we are calling on the Scottish government to monitor the situation in the current challenging environment."
A Scottish government spokesman said the report was a "useful contribution to the ongoing debate on how Scottish local newspapers can best adapt to the challenges they face".
He added: "The Scottish government agrees with the committee's view that it is imperative that the newspaper industry keeps pace with, and adapts to, technological and cultural changes.
"We will continue to facilitate constructive dialogue between all interested parties in order to help the newspaper industry to do this."