Gwent CPS lawyer accepted share of £20,000 bribe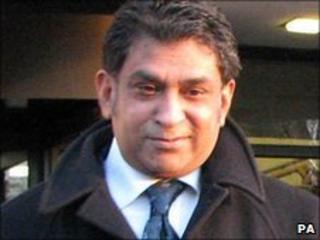 A Crown Prosecution Service (CPS) lawyer has admitted taking a share of a £20,000 bribe to drop a case.
Sarfraz Ibrahim, 51, of Cyncoed, Cardiff, who worked for Gwent CPS, was caught in a police sting.
At Swansea Crown Court, he admitted corruption, perverting the course of justice and misconduct in public office.
The court heard he told an undercover agent that he could "manoeuvre" an assault charge the man was facing.
The undercover agent was sent by the Serious Organised Crime Agency (Soca) after a tip-off that Ibrahim might accept bribes to "nobble" a trial.
The court heard that Ibrahim, who was head of the advocacy unit at Gwent CPS, was caught in an undercover operation mounted by specialist anti-corruption detectives.
The CPS is the public body which reviews the evidence gathered by the police and then decides whether cases should go to court or whether they should be dropped.
Ibrahim had come to the attention of Soca in late 2008 as they were conducting a surveillance operation into a suspected south Wales drugs operation.
That undercover work had taken them to Sarn service station near Bridgend, where their two targets were observed meeting two strangers.
The two strangers turned out to be Ibrahim and a man called Saifur Khan, 37, who is Ibrahim's friend and business partner, and alleged accomplice.
Fictitious case
No evidence of wrongdoing was ever found in relation to that meeting but it did arouse the suspicions of Soca and, given Ibrahim's important role in the CPS, they devised what was described in court on Tuesday as an "integrity test" to see if he was corrupt.
Early 2009 the Soca officers devised an entirely fictitious case involving a man called Nic Baker, who was charged with assault.
The role of Baker was played by an undercover officer, and he was genuinely arrested by regular police, and a file involving a fictitious victim statement, police and eye-witness report was prepared.
At this point another undercover officer, posing as a wealthy businessman named Tariq, went to see Saifur Khan saying he was Baker's employer. Mr Khan told Tariq that Ibrahim was a senior CPS lawyer and could help his employee.
Over the coming weeks the officer called Baker met Mr Khan and Ibrahim. In those meetings the undercover officer made clear he was guilty of the crime. But Ibrahim told him he would take charge of the case, and would see that it was dropped.
This he duly did in May 2009, acting as the reviewing officer, and saying that no further action should be taken.
£20,000 cash
In June 2009, an undercover officer went to Mr Khan's office in Cardiff, where he runs a letting agency, and delivered £20,000 in cash. Some 30 minutes later Ibrahim arrived and the money was split between them.
Ibrahim pleaded guilty on Monday to corruption, misconduct in public office and attempting to pervert the course of justice.
At the time the judge imposed an order banning the reporting of that information. That has now been lifted.
Mr Khan is pleading not guilty to aiding and abetting misconduct in public office attempting to pervert the course of justice. His trial continues at Swansea Crown Court.
The prosecution has indicated that Soca officers "Tariq" and "Nic Baker" will both give evidence, though from behind screens to maintain their anonymity.
The case is expected to last several weeks.