Watch your school, says north Wales campaign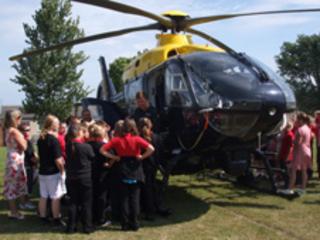 A campaign is under way in north Wales urging people to keep an eye on their local school out of hours and during summer holidays.
School Watch, backed by North Wales Police and Fire and Rescue Service, wants residents to be vigilant.
Pupils from three Colwyn Bay schools examined a fire engine and police helicopter at its launch.
In Denbigh, Gwaenynog and Heulfre schools are also taking part in the scheme.
Ysgol Tan y Marian in Colwyn Bay hosted the launch on Tuesday with pupils from Ysgol Penmaenrhos and Ysgol Cynfran joining in.
A spokesman said the scheme highlighted the need for vigilance.
"School Watch is aimed at keeping buildings safe and secure and to prevent valuable resources being diverted to combat burglary and vandalism.
School security
"The launching of School Watch reminds us all of the important of school security," said crime reduction officer Ifan Hughes, from North Wales Police.
The partnership is aimed at keeping schools safe from arson and criminal damage.
"It is an all-year around scheme with an emphasis during the summer holidays," he added.
Wyn Jones, Conwy council's cabinet member for lifelong learning and skills, said it needed the help of parents and the local community.
"Through the School Watch campaign we can prevent criminal damage to our schools and reduce the possibility of disruption to our pupils and their education," he added.
The public is being asked to report anything unusual, or anyone acting suspiciously, on school premises after hours or during holidays to call 101.
A similar launch was taking place in Denbigh on Wednesday.