Arson 'target' accused of affair before Blackburn fire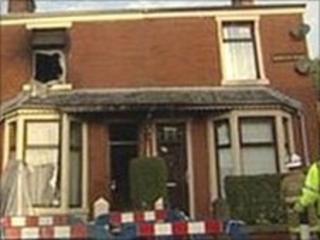 A man was told to swear on the Koran that an affair with a woman was over weeks before he was the intended target of an honour killing, a court heard.
Abdullah Mohammed, 41, and his wife, Aysha Mohammed, 39, died in the fire in London Road, Blackburn, last October.
Prosecutors say the assailants intended to firebomb neighbour Mo Ibrahim's house but got the wrong address.
Hisamuddin Ibrahim, 21, Mohammed Miah, 19, Habib Iqbal, 25, and Sadek Miah, 23, all of east London, deny murder.
Hisamuddin Ibrahim ordered the firebombing on behalf of his family to punish Mo Ibrahim - not a relation - for having a sexual relationship with his sister, jurors at Preston Crown Court were told.
'Marriage problems'
Mr and Mrs Mohammed were overcome by smoke and fumes after an accelerant was poured through their letterbox on 21 October.
The couple and two of their three children, who survived, lived at 175 London Road while the target, Mo Ibrahim, lived on the same street at 135, the prosecution said.
Following the fire, Hisamuddin Ibrahim's sister Hafija Gorji, told police she and her husband were having marriage problems and she was having an affair.
Brian Cummings QC, prosecuting, said: "In September her husband found out about the affair and assaulted her.
"She went to the police scared that her husband would go to Mo's house and cause a disturbance."
Mo Ibrahim received a phone call from Mrs Gorji's husband demanding that he explain himself to her family, the court was told.
Mr Cummings said: "He was told to swear on the Koran that there was nothing going on between them."
The prosecution say Hisamuddin Ibrahim told Habib Iqbal, Mohammed Miah and Sadek Miah, to drive from London to Blackburn and carry out the arson attack.
Mr Iqbal said in a police interview Hisamuddin Ibrahim had contacted him for help in scaring Mo Ibrahim. He had suggested starting small fire in Mo Ibrahim's porch, Mr Cummings said.
Sadek Miah has pleaded guilty to an alternative charge of manslaughter, which his co-defendants all deny.
The trial continues.