Pakistan poised to vote on restricting media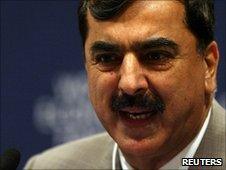 Pakistan is poised to clamp down on the country's independent media industry.
The government has introduced a bill in parliament which, if passed, would usher in harsher regulations for broadcasters and online organisations.
It seeks to amend a law enforced by Pakistan's former military ruler, Gen Pervez Musharraf, in a bid to regulate parts of the media.
Political analysts fear the government is using the law to rein in broadcasters critical of its policies.
The bill, which targets radio and TV and some online news services, is likely to be voted on within days.
The extent to which new media will be affected by the proposed law is unclear, while print remains unaffected.
The current government, led by the Pakistan Peoples Party, has sought to placate censorship fears by claiming that it is diluting the harsher methods introduced by the former dictator.
"We are introducing the bill after disposing of those parts introduced by Musharraf," Belum Hasnain, chairwoman of the parliament's media committee said in a statement.
The committee has to vet the bill, known as the Pakistan Electronic Media Regulatory Act, before parliament votes on it.
Ms Hasnain said the bill would remove restrictions on the media, as promised by Prime Minister Yusuf Raza Gillani in his inaugural speech.
However, political analysts believe that the government is using the law to rein in local television channels which have grown highly critical of its policies.
According to the bill, broadcasters in Pakistan will be banned from showing images or programming of suicide bombings, terrorists or the bodies of victims of terror attacks.
They will also be prevented from showing related material.
Further, they will not be permitted to broadcast statements by militants or extremists, or activities deemed to be connected with the spread of militancy and extremism.
The broadcaster will also be bound to assure the government that none of its programmes will promote hatred or militancy.
In addition, the law states that programmes opposing the ideology, sanctity, independence and security of the state of Pakistan cannot be broadcast.
Companies that violate the law will have their licences cancelled. They can also be fined up to 10 million rupees ($117,647; £78,740) and jailed for three years.
The bill is likely to raise questions about the government's policy on freedom of speech and dissent, which has hardened considerably over the past three months.
Pakistan has recently blocked several internet sites for allegedly promoting blasphemous content. It has also started monitoring of search engines and email providers including Google, Yahoo and Hotmail.
The electronic media regulatory bill is likely to be presented for vote before the parliament in a few days.